Glossy Vs Matte Finish Porcelain Tiles: What Is The Difference?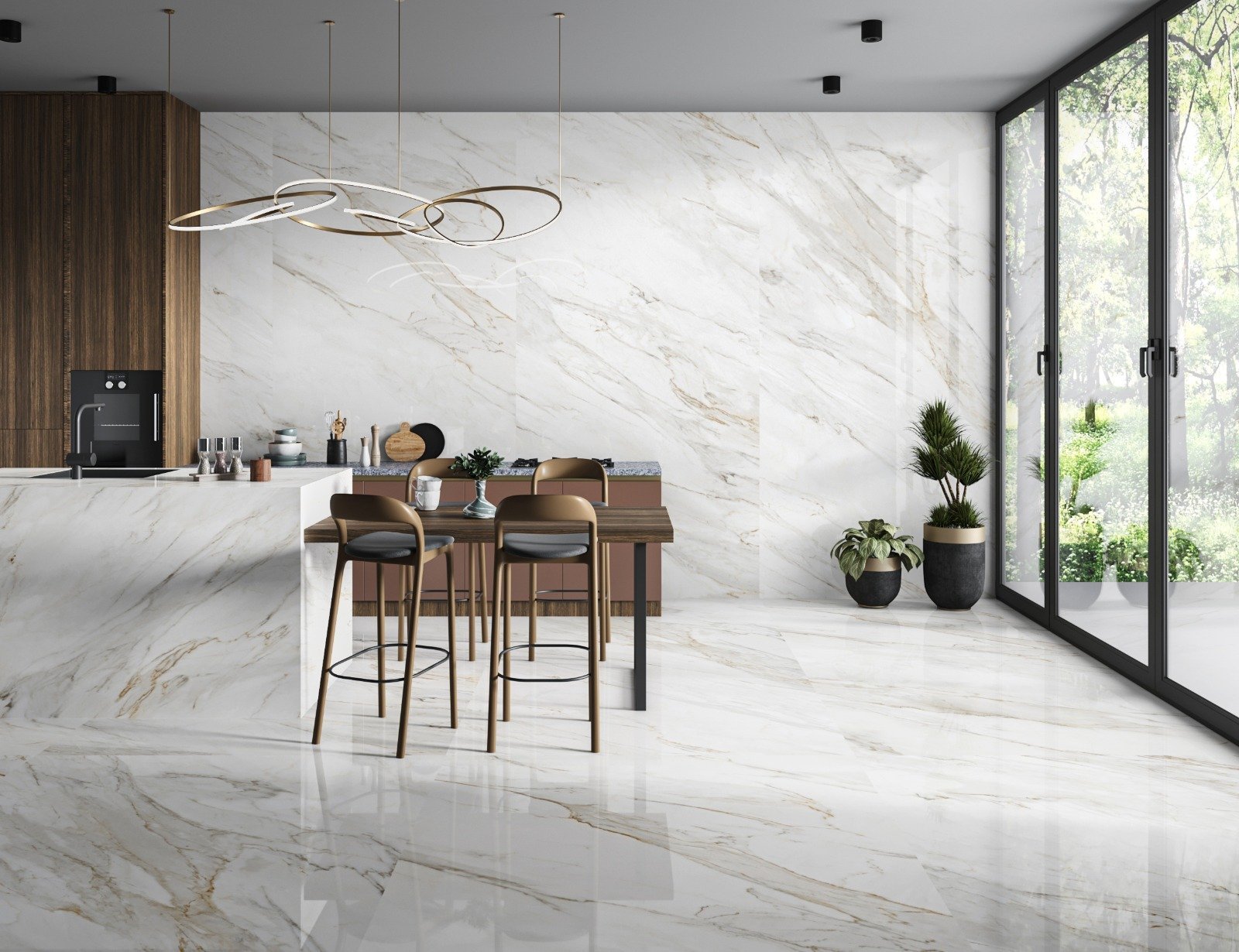 After selecting the right tile for your project, let's say you choose porcelain. The next step is to select the tiles' finish, pattern, and colour.
Porcelain tiles offer various patterns and colours in different finishes to suit your requirements.
But there are numerous finishes available in the market. So, before you get overwhelmed by surfing on the net or turning pages of brochures, let me introduce two famous finishes: Glossy and Matte finish.
Glossy and matte finish tiles are the most popular among homeowners, architects, and builders. Both finishes come in various designs, patterns, and colours to accentuate the interior's look.
Even though both glossy and matte finish porcelain tiles undergo the same manufacturing procedure, they differ a lot.
But what makes them differ so much? Read on the blog to know.
What Are The Glossy Finish Tiles?
Glossy finish tiles have an extra but durable glaze layer of liquid glass. It makes porcelain tiles shinier and brighter with an ultra-smooth texture.
The liquid glass layer enhances the tiles' patterns and colours, giving the space a luxurious look for decades (No Worry! The sheen won't fade away).
The glossy finish tiles can accentuate home decor by giving it a classy, trendy, and stylish look.
Pros Of Glossy Finish Porcelain Tiles
Now, let's see some benefits of glossy finish tiles.
01. Easy To Clean
The first benefit of glossy tiles is they are easy to maintain The glazed layer on the porcelain tiles makes them smoother and less porous.
So, the stains remaining on the surface can easily be cleaned with a damp cloth. A simple swipe, and voila! The space will shine.
02. Makes The Small Room Look Bigger
As mentioned above, glossy tiles have a shinier surface, creating a mirror effect in the room.
Glossy tiles reflect the light in the room. This phenomenon tricks the eyes into believing that the room is much bigger than it appears.
Well, this illusion helps to make a smaller room appear bigger. This property of glossy tiles makes them a perfect fit to use in small spaces or where there is significantly less natural light.
It is one of the most significant benefits of glossy tiles.
03. Add A Sleek Look To Your Home
To make the space more beautiful and elegant, then gloss finish porcelain tiles are the to-go option.
Cons Of Glossy Finish Porcelain Tiles
After the benefits, let's see some of the drawbacks of glossy finish tiles.
01. Highlights Imperfections
The most significant benefit can turn into the biggest drawback too. The higher reflection rate of the tiles makes the tiniest smudges and stains appear definitively. Due to this, you need to clean the surfaces frequently.
02. Slippery Surface
Another drawback of glossy tiles is they are slippery. The less-absorption rate makes the surface more slippery.
The extra glaze layer, water puddle, and haste can make you reach the hospital. But it's safer to use them on walls.
03. Shine Can Be Distracting
The shinier surface is not everyone's cup of tea. It may be playful for toddlers, but not for adults.
Moreover, while focusing on a particular task, you don't want any distractions to meddle with your work, which shiny surfaces always do.
Where To Install Glossy Finish Porcelain Tiles?
Due to ease of maintenance, glossy tiles are apt for stain-prone areas like kitchens, backsplashes, fireplaces, and sometimes even countertops or bathroom walls.
Their lustrous look makes them perfect for walls and floors. For instance, glossy finish wall tiles are trending as they add an extra dimension to the room.
You can turn your dull guest room into a luxurious suit with glossy finish porcelain wall and floor tiles or add more glitz to your master bedroom with these tiles.
Glossy finish floor and wall tiles are perfect for small congested areas like hallways and corridors to make the space look bigger.
What Are The Matte Finish Porcelain Tiles?
The most significant difference between matte and glossy tiles is their appearance.
Unlike glossy finish tiles, matte tiles do not have any shiny appearance. Instead, they are dull and have a rough surface.
A special layer is added on the top of the tile to achieve a non-shiny look. If you want a subtle and natural look for your space, then matte-finish porcelain tiles are your go-to option.
Matte finish tiles amplify the aesthetics of the room. The matte surface highlights the room's accessories, giving the space rich and elegant vibes.
Matte tiles are in trend now. Many people, especially the younger generation opt for them because of their aesthetic appeal and evergreen looks.
Pros Of Matte Finish Porcelain Tiles
Here are some reasons why matte finish tiles are the best choice for your home.
01. Anti-Slippery Properties
The biggest benefit of matte finish tiles- it has a rough surface. The presence of a rough surface increases the friction between the foot and the tiles. As a result, you can have a comfortable walk, without fear of slipping.
The anti-slip property of matte-finish tiles makes them ideal for the outdoors like patios, gardens, around the swimming pools, or compound areas.
Here, take note that not a single tile is 100% slip-resistant or carries a slip-proof guarantee. Instead, slip-resistant tiles lower the chances of accidents. Slips can still occur, if there is dirt, objects laying on the floor carelessly, or if there is water.
But yes, they lower the chances of accidents. Slip accidents may occur due to dirt or objects lying on the floor; it's not always water.
02. Low-Maintenance
Another major benefit of matte finish tiles is their rough surface can easily conceal stains (of any kind) and scratches better than glossy tiles.
So, you don't have to be a clean freak when there is even a smaller spill. This property makes matte finish floor tiles ideal for use in high-traffic areas.
03. Gives A Rustic Look
Are you a fan of a rustic look, warm and natural earthy tones? If yes, then matte finish tiles are for you. Matte finish porcelain tiles come in different effects, such as wood, stones, and cement, to give a rustic touch to the interior.
Cons Of Matte Finish Porcelain Tiles
Before you make any decision, keep these drawbacks of matte finish tiles in your mind.
01. Stubborn Stains
Due to their rough surface matte finish tiles easily camouflage stains and scratches. But, if there is any spill, the liquid will stick to the uneven surface, and it would be hard to remove them.
Compared to glossy tiles, where you need a simple wipe to clean the stain, in matte finish tiles, you need to make an extra effort to clean the stain.
02. Not Suitable For Smaller Rooms
Unlike gloss tiles, matt finish tiles have a rougher surface; thus, they do not reflect light that effectively. Contrary to the glossy finish, matte finish tiles make the space look smaller and more cluttered.
As a result, matte finish tiles can be used only in large rooms with enough availability of natural light
Where To Use Matte Finish Porcelain Tiles?
Matte finish tiles are suitable for use both inside and outside because of their anti-slip properties.
They are recommendable for the floorings for the bathroom and wet areas. Following certain tips can make the bathroom more slip resistant.
Matte tiles can be installed anywhere in a kitchen, bathroom, living room, patio, balconies, office, study room, etc.
Moreover, matte tiles radiate calming and warm aura, perfect for the study area or home offices where you need to focus more on work.
Matte finish porcelain tiles are also perfect for elders and toddlers at home.
Which Is Better: Glossy Or Matte Finish Tiles?
In the above blog, we have discussed the two most popular porcelain tile finishes- gloss and matte.
It depends on the homeowner or architect and which tile they want for their project. There are no strict guidelines or written laws which you have to obey while selecting a tile finish.
It is advised to see the pros and cons of the tile before you make the final decision. For instance, if you are renovating your study room, glossy tiles can be distracting and make you lose focus.
While if you have a studio apartment, then installing matte tiles can make the place look more cluttered, here you need to install glossy tiles.
Matte And Glossy Tiles For A Perfect Mix-And-Match Effect
If you still need clarification about which one to choose, glossy or matte porcelain tiles, choose both. Glossy and matte tiles are the perfect fit to create a mix-and-match or fusion effect. Matte floor tiles and glossy wall tiles overall will create a classy and modern look.
Not fond of fusion art? We recommend you use each finish in one room. For example, make your ordinary bedroom extraordinary by installing glossy finish porcelain tiles giving it a luxurious touch.
Consider installing matte finish porcelain tiles to create a calm and welcoming environment for guests.
About Lioli Ceramica
Are you looking for a trusted tile partner? Here we are, Lioli Ceramica. As a well-known large-format porcelain tile manufacturing company, we can assist you in the journey of selecting the perfect tile for your residential or commercial needs.
We have porcelain tiles available in different finishes such as rustic matt, lustrous, and structure matt in different sizes- the epitome of strength and beauty. By leveraging the power of modern techniques and the creativity of our artisans, we make tiles with utmost strength and enchanting designs and patterns.
Lioli's wide range of tile collections is perfect if you want to amp up your space. Give an eye to our tremendous collection of porcelain tiles, to add spice to your room.

Latest Blogs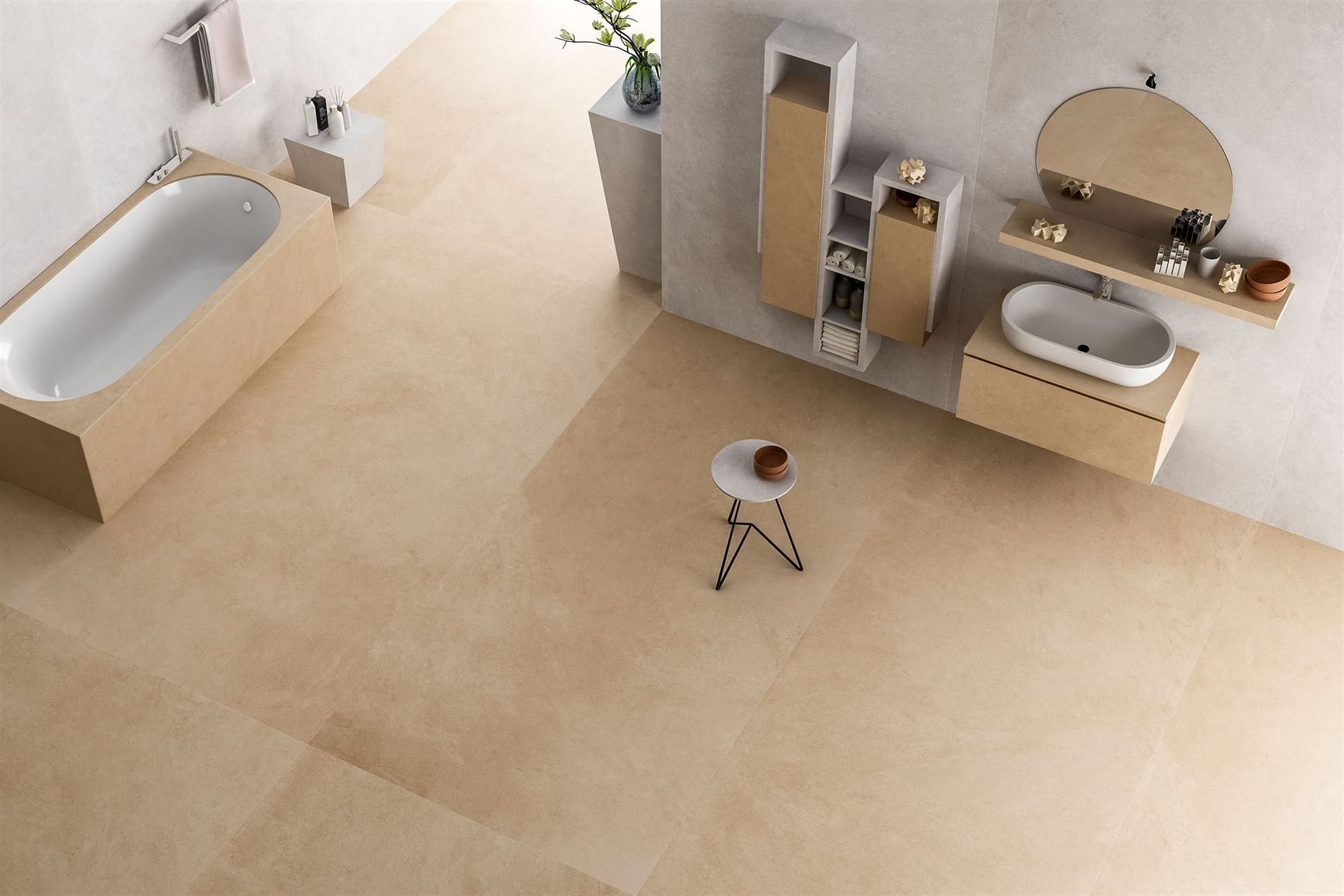 How To Clean Porcelain Tiles
Porcelain is a highly durable flooring that doesn't need much maintenance and cleaning. Boasting the attributes of being scratch, stain, and water-resistant installing porcelain tiles provides an advantage over ...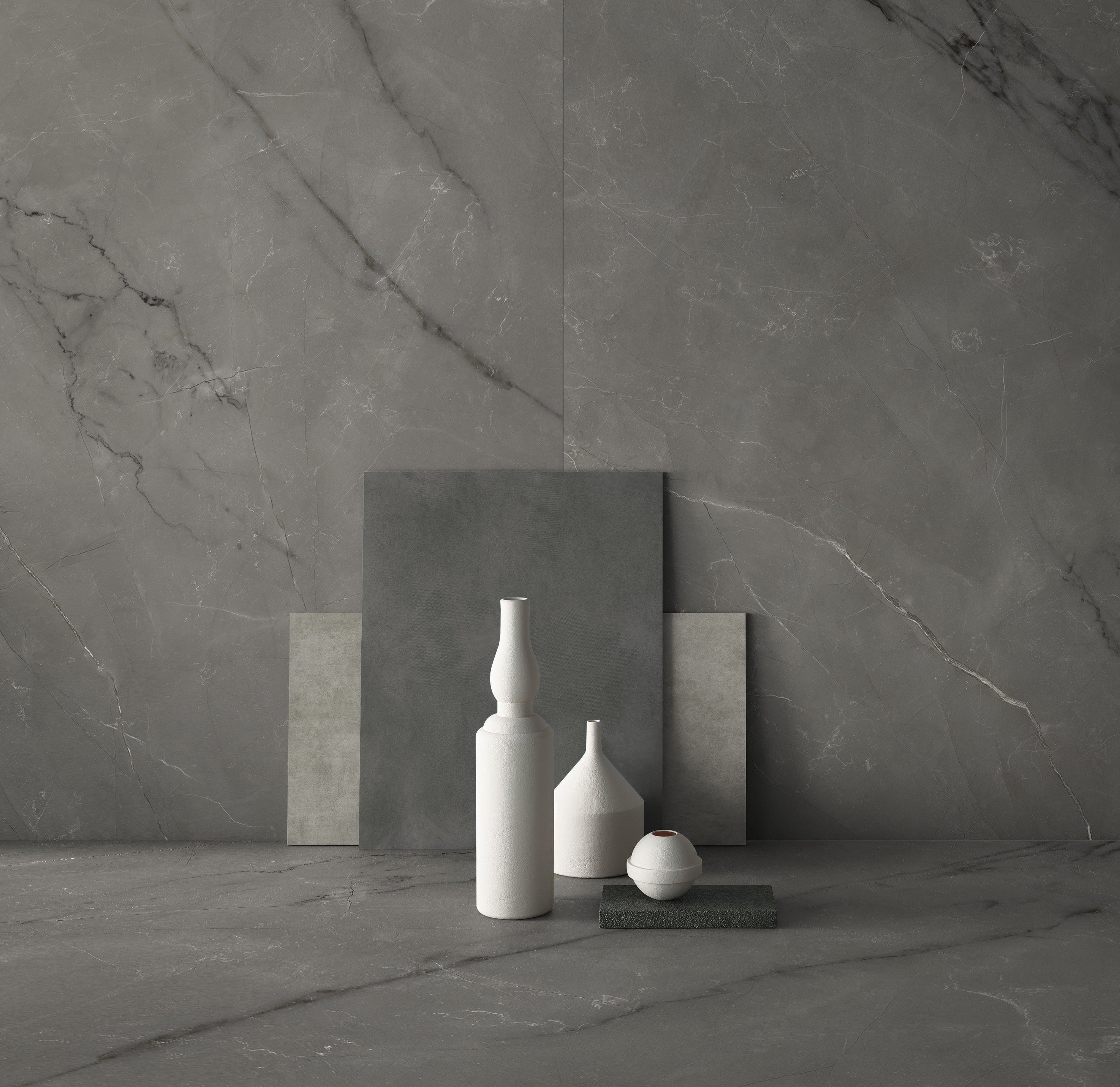 Why Porcelain Tiles are Better Than Natural Stones.
Whether to renovate the bathroom or install new tiles in the lobby or laundry room, they spend a lot of time deciding between using natural stone or porcelain tiles...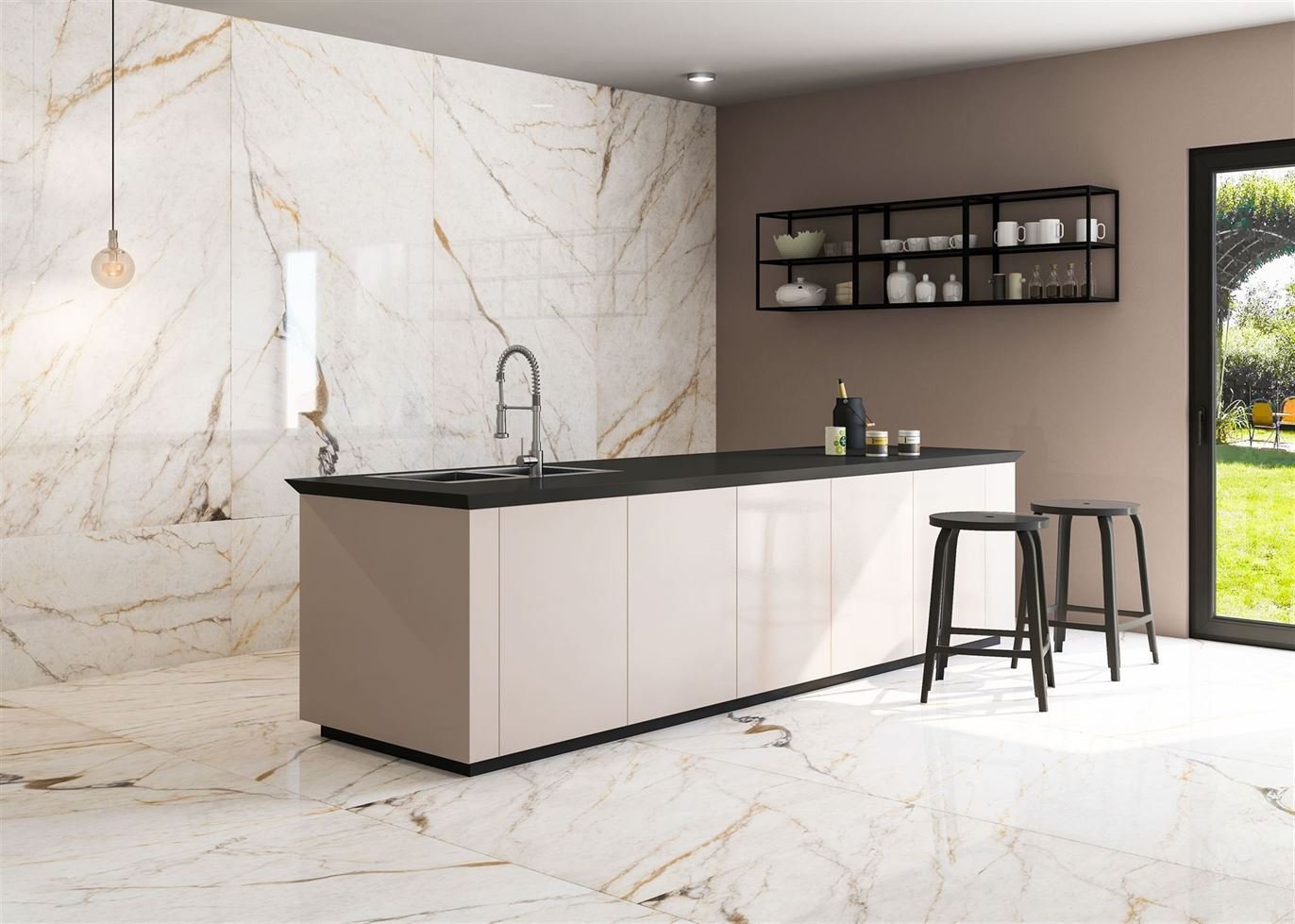 Kitchen Countertops 2022 Design Inspirations
Do you want to change the look of your kitchen in 2022? Then start with the kitchen countertops, the heart of the kitchen. Obviously, if you are investing a hefty ...